Presentation
SPECIAL LANGUAGE PROGRAMMES
St Jo offers several partial immersion programmes as defined by the French Ministry of Education.
In the European and Oriental language programmes (sections européennes, sections orientales), students receive additional hours of language instruction weekly in middle school, and in secondary school, at least one subject is taught partially in the foreign language. At both levels, cultural activities and exchanges are organised.
The International language programmes (sections internationales) are offered at middle schools and impart six hours of instruction in the foreign language: two in history and geography and four in literature. Additionally, exchange students are often enrolled in these classes to ease their entry into the French system and enrich the immersion class with their native knowledge.
Bilingual classes (English/German and English/Chinese) (Year 6 and up),
English-language European programme (Year 8 and up),
German-language European programme (Year 8 and up),
Italian-language European programme (Year 8 and up),
Chinese-language Oriental programme (Year 8 and up),
British English International programme (middle and secondary school),
French as a foreign language courses,
Citizen debates to practice the foreign language.
LANGUAGE CERTIFICATES AND DIPLOMAS
ZDAF (Zertifikat Deutsch Als Fremdsprache),
Cambridge English exams (KET, PET, FCE, CAE, IELTS),
TOEIC (Test Of English for International Communication),
DELE (Diplomas of Spanish as a Foreign Language, recognized by the Instituto Cervantes and the University of Salamanca),
PLIDA (Progetto Lingua Italiana Dante Alighieri),
French language proficiency diplomas for non-native students (TFI, DELF, DALF).
Saint Jo is accredited by the Cambridge International School and qualified to administer the International General Certificate of Secondary Education (IGCSE) exam.
EUROPEAN EDUCATIONAL PROGRAMMES AT ST-JO
E.U. programmes
Comenius
Joint projects with over 10 European partner schools,
Assistant hosting programme,
Three-month, individual student exchange programmes.
Transnational programmes
INTERREG IVA programme in partnership with the Dorothy Stringer School in Brighton & Hove, England,
Professional seminars,
Inter-school events on different topics,
Language exchange programmes,
Videoconferencing projects,
Environmental projects.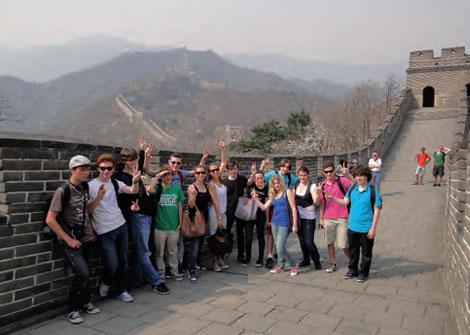 INTERNATIONAL ACTIVITIES
School partnerships
33 partners in 17 countries,
School exchange trips to more than 10 destinations for year 6-12 students,
Programmes offering the option of a single trimester abroad,
Video conferencing activities,
Charity activities.
Activities at Saint-Jo
International week,
clubs (choir, theatre, poetry, cinema) in foreign languages,
Foreign student hosting programmes for medium-length stays.