Our history
1872: On 7 October, the small Saint Joseph primary school opens beside the Maison d'Yvetot secondary school. In the same year, the Havre Athletic Club is formed – France's oldest football and rugby club!
1897: To keep up with increasing student enrolment, Abbé Julien, Superior, adds new buildings including the famous Byzantine chapel.
1914: World War I breaks out; over 300 students are enrolled. The day school is partly transformed into a military hospital.
1922: Over 500 students! We need new buildings once again. Abbé Vignal founds the Petit Saint Joseph school in Graville.
1940: Abbé Supérieur Blanchet, who had developed the science curriculum, is appointed bishop of Saint-Dié. Abbé Theubet takes over his position during the difficult years of the German occupation.
1944: Institution Saint Joseph is destroyed by bombs on the night of 5/6 September. Like all of Le Havre, it pays the terrible price of war.
1950: After temporarily being housed in Sainte Adresse, the new Saint Joseph takes shape. The archbishop of Rouen lays the cornerstone of the buildings to be built on the site of the former villa of French President Félix Faure.
1959: The Debré Act is signed. Saint Joseph starts to receive State funding and stops giving primary classes.
1968: Institution Saint Joseph, usually known as a calm school, goes through a mini-revolution: enrolment reaches 1,000 students, and girls are admitted for the first time!
1970: Alumnus and English teacher Jacques David takes over from Abbé Gricourt. He is the school's first headmaster that is not a member of the clergy.
1978: Bernard Demeillers, a maths and physics teacher, takes over as headmaster. The school is renovated with a new audiovisual room and language lab.
1993: Institution Saint Joseph sets up a third school. To foster the development of the school's secondary programme, Demeillers opens Saint Jo Sup at the Centre Havrais de Commerce International.
2001: The first intensive English programme opens for the year eight students.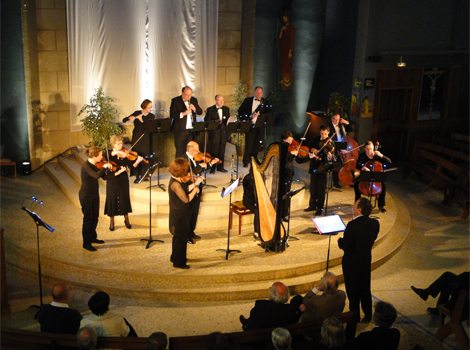 2002: The first intensive German programme opens for year eight students, Followed by an English programme for the ninth year.
2003: The second English programme opens. A partial immersion programme in British English, with native language exchange students, opens for year 10 students.
2004: A similar enhanced language programme opens for year 6 students.
2006: Two more enhanced language programmes, in Italian and Mandarin, open in the middle school, and a German programme in the secondary school.
2007: The 400 square-metre multimedia library is inaugurated.
2008: After thirty years as headmaster, Mr Demeillers retires.
2011: A preparatory class for French elite business schools opens as a year 11 option.
2012: First exchange with Dalian Secondary School, China.
2013: Saint Jo becomes a Cambridge International School and is authorised to administer the International General Certificate of Secondary Education (IGCSE).
Partnership with Ecole Saint Michel – new exchange with a secondary school in Singapore. A bilingual immersion programme opens in English and Chinese.