Living the faith: becoming upright people
Middle school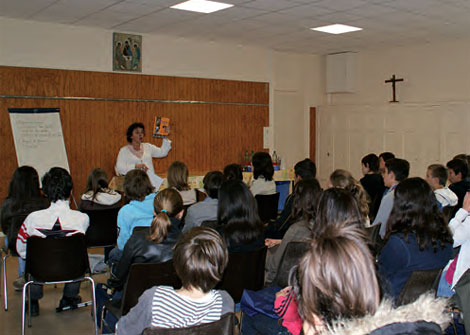 The chaplaincy offers various activities to help all students find their place. For all year levels, we organise catechism and preparation for first communion or baptism (the latter taking two years). Students in year seven and up can prepare for their profession of faith, while year nine students can receive the sacrament of confirmation. Year eight and nine students can attend the C4/3 clubs (Chrétiens en 4ème/3ème), meet other youngsters from the diocese at gatherings or events, and meet guest speakers (e.g. the Catholic committee against hunger and for development, CCFD).
We also organise various celebrations at the chapel: back-to-school mass, Christmas eve midnight mass, Ash Wednesday mass, the Stations of the Cross, and a final mass at the end of the school year.
Tout en respectant la liberté de chacun, nous essayons d'aider les jeunes qui nous sont confiés à devenir des «hommes debout».
The students are also invited to take part in charity endeavours, such as helping out at a Resto du Coeur soup kitchen, the SOS Bébés parent help hotline, Secours Catholique relief and social development charity, or tutoring at schools and orphanages in Madagascar and Haiti.
While respecting freedom of choice, we try to help all students in our care to become "upright people".
We strive to get students involved in celebrations and have set up a school orchestra.
Secondary school
Secondary school students can participate in the following activities:
Prepare the sacrament of confirmation
Attend the C 2 / 1 clubs (Chrétiens en 2nde /1ère)
Attend world religion sessions
Help out at charities (like Restos du cœur soup kitchens)
Tutor fellow students
Visit the elderly
Guest speakers may visit the school to deliver lectures or conferences.
Year eleven and twelve students can teach catechism at the middle school.
They do so under the guidance of our chaplain, Father Bruno Golfier.