Partial language immersion
Partial language immersion programmes
GOALS
The sections internationales are partial language immersion programmes defined by the French Ministry of Education. They aim to teach students to break down borders by developing international cooperation and relationships. Partial immersion classes have both French and foreign students enrolled, with the aim of helping all progressively use a foreign language in certain subjects. The international programmes are designed to welcome foreign students, facilitate their entry into the French school system, and make sure they have the tools they need to continue their schooling back in their home country. The classes also create a setting that helps French students attain a high level of fluency in a foreign language.
The international language programmes are open to students whose linguistic ability to follow a partial immersion course has been assessed and deemed sufficient by the host school.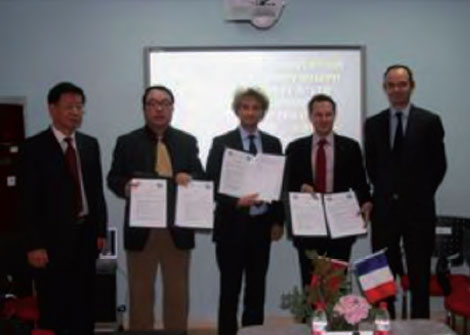 HOW IT WORKS
The secondary school curriculum for the enhanced language immersion programme is as follows:
Four hours of history and geography per week, of which two are delivered in English, based on a curriculum prepared in consultation with the French and English educational authorities. Four hours of foreign literature class per week, delivered in English, in addition to the regular English class schedule.
FRENCH BREVET AND BACCALAURÉAT DIPLOMAS IN THE BRITISH-LANGUAGE PROGRAMME
Students demonstrate their grasp of the instruction dispensed in year nine, when they sit the Brevet Option Internationale (BOI) national exam, and in year twelve when they sit the French baccalauréat exam, Option Internationale (OIB). In both cases, the mention Option Internationale acknowledges that the students have participated in partial immersion programme. Students choose one of three streams for their baccalauréat school leaving certificate: ES, L or S (economics and social sciences, literature, or science).
The examinations specific to the OIB concern:
• English language and literature, and
• History and geography.
Students with an OIB find admission to universities outside France greatly facilitated. The OIB is also gaining acceptance within France, even by preparatory classes for elite schools, since it certifies that the holder is fluent, has a firm grasp of two cultures, and is adaptable.
COURSE CONTENT AND ENRICHMENT
The emphasis is placed on developing a thorough grasp of another culture, literary tradition, and civilisation.
Cinema, theatre and communication are an integral part of the enhanced immersion programme.
The additional help provided in English for French students, and in French for English-speaking students, helps them attain the level required.
A student exchange with an English-speaking country helps our students develop cultural openness.
English language assistants also provide conversational practice.
Additionally, students can study for language proficiency certificates.
Thanks to new information and communication technologies like videoconferencing, students can work independently and communicate using modern, suitable means.